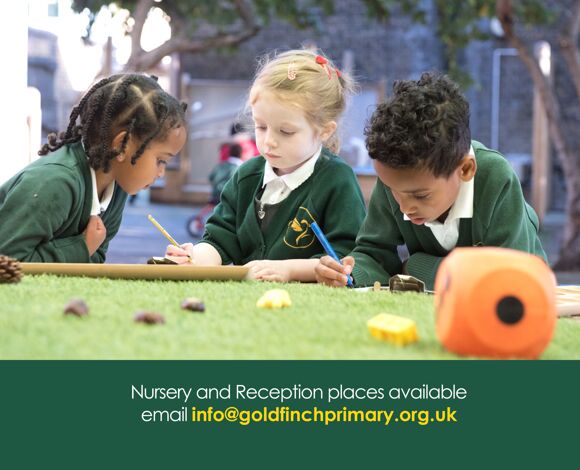 Welcome to
Goldfinch Primary School
We aim to nurture and develop your children into lifelong learners. Our role is to provide a safe and happy environment so that your children can thrive over the next seven years with us, becoming young people we can be proud of and who achieve the highest standards. We put our children at the heart of everything we do and we pride ourselves in working in partnership with families.
Read More
Our School Stories
I can create excellence by setting high expectations for myself and others.
Ambition
I can create excellence by respecting myself, others and the world around me.
Respect
I can create excellence by learning from and with my family, teachers, peers and community.
Collaboration
@GoldfinchPrmry
25th May 2020
@GoldfinchPrmry
23rd May 2020
An enormous thank you to Battersea Power Station for the laptops that were given to 5 of our families this week! 🙏🙏🙏🌈#PowerToConnect
https://t.co/XdjDxhAXcT
@GoldfinchPrmry
23rd May 2020
Eid Mubarak! Today is a very special day for Muslims around the world - a day to be happy and grateful for all we have. For those of you who have been observing Ramadan, we wish you a very happy celebration! And to everyone, have a wonderful weekend and a restful half term!
https://t.co/pJzWNBAjUg
@GoldfinchPrmry
22nd May 2020
@GoldfinchPrmry
22nd May 2020
Check these out! Bryan in Jupiter and Safa in Earth have made working torches with their electricity circuit kits - fantastic science home learning! 👏🔦💡⚡️
https://t.co/sMjbFRQUzn
@GoldfinchPrmry
22nd May 2020